Book Design
CLIENT: R.K. Dick Williams, author
PROJECT: Two biographies with extensive photo galleries and themes that follow front to back. Independently published. Available at amazon.com.
"Notes From The Cockpit" by R.K. Dick Williams
Notes From the Cockpit explores four different phases of Williams' aviation career. The reader gets to meet crazy characters and great pilots as Dick tells his story with humor, excitement, and the wisdom of experience. The underlying themes of safety, the world and its elements, and even Mark Twain's riverboat experiences make this a unique aviation book.
To support the aviation theme, the cover design mimics the black leather and gold embossed type of a pilot's log book. The spine has a gold overlay.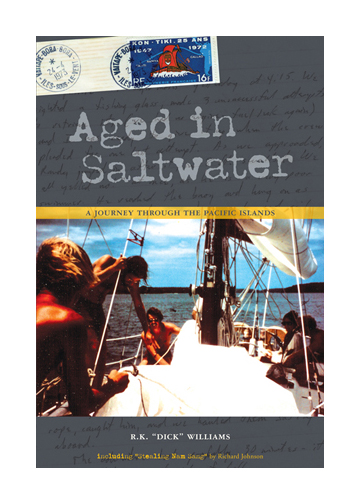 "Aged in Saltwater" by R.K. Dick Williams
Dick Williams was a neophyte 22-year old sailor when he signed up as crew on the Blue Orpheus. He had sailed nothing larger than a 17' Snipe and never been out of sight of land. But he took to it, with his Cornish grandfather's sailing salt running through his veins. He quickly advanced to First Mate and then Captain as he took DJ's 39' Ericson sloop from New Zealand back to Ensenada, braving weather, boat malfunctions, and dysfunctional crew along the way.
The book design pulls together elements representative of the author's journaling and adventures—grainy 1960/1970's images, actual journal pages and postage stamps from his sailing travels.